The only lighthouse Saxony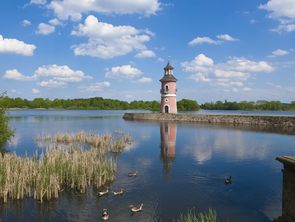 The maritime buildings at the large lake, which to our taste seem to be shenanigans of the time, served the electoral court and their guests in the 18th century as a backdrop when sailing across the lake in frigates or gondolas. The historical background, however, was the Battle of the Dardanelles of 1770 between the fleet of Russian Tzarina Catharine the Great and the Turkish fleet, which ended in victory for the Russions. This victory over the »arch enemy« was honoured everywhere in Europe. After the Russian-Turkish War had ended, the Russian Commander-in-Chief of the Russian fleet, Count Orloff, stayed at the Saxon court in 1775. A year later, Electress Amalie Auguste reported on the first voyage by the frigate on the Moritzburg Lake, whereby Marcolini would have been her admiral. The two-masted frigate, the pier as well as the so-called Dardanelles between the Large Lake and the Canal were armed with little canons which could be fired with fireworks-like ammunition to imitate the real sea battle.
The lighthouse can also be visited as part of special guided tours exclusively.