Saxony's only lighthouse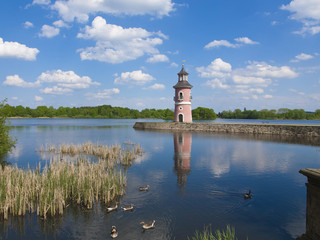 Saxony's only lighthouse and the maritime buildings around Moritzburg served the electoral court in the 18th century as a backdrop for their sailing turns across the castle lake. The historical background, however, was the Battle of the Dardanelles of 1770 between the fleet of Russian Tzarina Catharine the Great and the Turkish fleet, which ended in victory for the Russians over the »arch enemy«, which was honoured throughout Europe.When the sea battle was enacted, the two-masted frigate of the royal society, the pier as well as the so-called Dardanelles between the Great Lake and the Canal were armed with little canons which could fire fireworks-like ammunition.
Due to reconstruction is the lighthouse closed.