The Little Pheasant Castle is very idyllically located near the banks of the castle pond. With its own miniature harbor and Saxony's only lighthouse, it suggested itself already back in Augustus the Strong's time as a venue for intocicating celebrations.

In 1728, Augustus the Strong had the foundation stone laid for the Rococo building. The aviaries in front of it followed in 1770. In elaborate restoration work from 2010 to 2013, the exotic and worldwide unique wall tapestries of feathers, straw, pearls and chinoise embroideries were completely resored again. Therefore, the Little Pheasant Castle at Moritzburg Castle counts among the most important German monuments of top artistic and historical value.


Moiritzburg Castle receives a pheasantry
When Augustus the Strong had Moritzburg Castle converted in the 18th century, he had als a pheasantry erected east of the hunting castle. That place was meant to breed pheasants to hunt for the royal table. But the pheasant-breeding place was devastated in the Seven Years' War (1756-1763).
Reconstruction and completion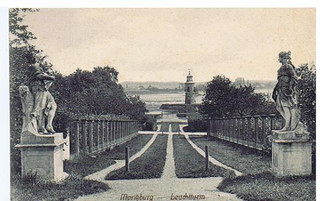 In 1769, one year after he had taken over rulership, Elector Frederick Augustus III started its reconstruction. Camillo Count Marcolini, senior chamberlain and boyhood friend of the young Elector, leased the garden and had a little summer palace erected above the old pheasant house.

The building was erected for the Elector between 1770 and 1776 adopting chinoise forms and was eventually extended by the Yarn House, a well, the alphabet hedge, Count Marcolini's residential home, wheat barns as well as stables and sheds for coaches. In 1775/76, the pier with the lighthouse, the port as well as the Dardanelles followed. A frigate for sailing on the Bärnsdorf Großteich lake was launched in the same year and two artificial islands were built
From the royal family to the Free State
After 1815, intensive pheasant breeding was terminated, and only the noble pheasants and other exotic birds were maintained. As late as until 1945, the pheasant garden was property of the former Saxon royalty. Today, the major part of the garden belongs to the Free State of Saxony, which takes an effort to reconstruct the historical structures.
Present-day use and exhibition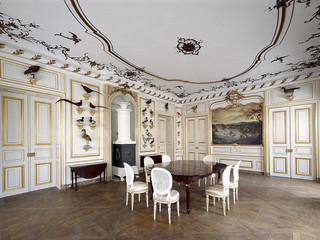 The Little Pheasant Castle is regarded the last castle in Saxony preserved in the original style of the Dresden Rococo. On almost 13.4 square meters, Johann Daniel Schade created a piece of architectural mastership as it has itb all; an antechamber, working cabinet, living room, bedroom, toilet room and hall. Upstairs there was even a dining room and an apartment. In this tininess, one keeps discovering new amusing installations, which eased princely life.