The Baroque castle compound surrounded by a pond attracts thousands of visitors every year. In the 18th century, it served Saxony's Elector Frederick Augustus I, also known as Augustus the Strong, as a hunting lodge and a magnificent backdrop for royal delights. A round walk of the castle in summer provides insight into the life at court then.
The Moritzburg Feather Room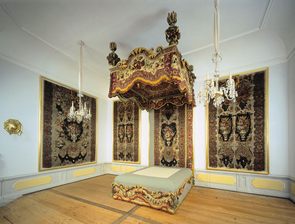 There are many legends around the Feather Room which is unique in European art history. It was regarded as a throne of a Mexican king or part of Indian household equipment. For its manufacture, generation of American Indian slaves are said to have processed millions of South-American birds' feathers. Eventually, Augustus the Strong is said to have received it from the Spanish king as a prize for his participation in a bullfight. But how much truth is actually in all these stories?
The Leather Tapestry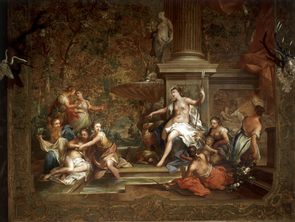 Worldwide, Moritzburg has the largest inventory of Baroque leather tapestry. Out of a total of 60 rooms, there are 11 rooms after all, where the leather tapestry has been preserved. Both the Baroque wall design and the large-format depictions from ancient mythology with Diana, the Goddess of Hunting, at its focus are evenly fascinating and unique. For some years now, a restoration project has been going on to preserve this unique collection, millimetre by millimetre. Within the scope of a special guided tour, one can get insight into this laborious effort.
The Collection of Hunting Trophies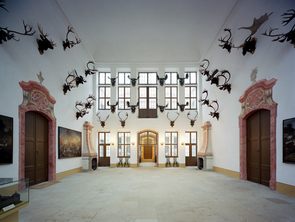 As early as in the 16th century, Moritzburg was a popular hunting place among the Saxon ruling dynasty and their guests. In the 18th century and under Elector Frederick Augustus I of Saxony, also known as Augustus the Strong, the castle compound was developed to also be used as a place of celebrating glittering feasts after hunting. Hence, Moritzburg is home to one of the most impressive hunting trophy collections, which includes the antler of an extinct giant red deer and the legendary 66-point red deer antler.
Opening Times and Admission
We are looking forward to your visit!
Opening Times
daily from 10:00am to 6:00pm, last admission 5:00pm
Admission:
Admission fee Euro 8,00
Concession fee Euro 4,00
2 adults and max. 4 children Euro 16,00
1 adult and max. 2 children Euro 8,00
Group rate (15 People and more) Euro 6,00
Group rate for School students Euro 2,50